Boys Varsity Soccer – Dustin Ramos
Forward, Dustin Ramos, 10, (#17) proves that dedication and passion for what you love to do makes all the difference in the world.
How long have you been playing soccer?
I have been playing since I was four years old.
How has soccer affected your life?
It has affected my life in many ways. It has helped me out of many struggles and a lot of stress that I've had in my life.
What are some of your goals as a team this season?
I have a lot of goals this season. Hopefully I score a lot of goals and win a Mission Valley League title and go far in CIF.
What are some of your personal goals?
This season is to be the top scorer in the whole Mission Valley League.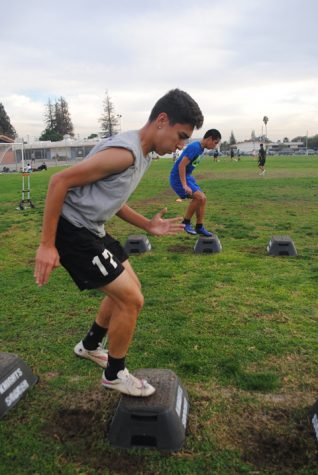 How far would you like to go with soccer?
I would like to go professional. I want to get a full ride after high school and then go pro after college. I'd like to go to Spain.
How do you prepare for game day?
Well first, I  wake up happy and listen to my music. Then I put on my jersey and pray and do good in the game.
What is it that you like about soccer?
What I like about soccer is that once I start playing, it just takes all my problems away from me. It's a stress reliever.
Who would you say is your role model?
I would say Cristiano Ronaldo because he has been through a lot and he is a hard worker.
What are some of your hobbies outside of school?
Just like to play soccer.
What kind of music do you listen to?
I listen to R&B, hip-hop, and trap. I like a lot of music, except for country music.