Varsity Girls Soccer – Giselle Martinez
Martinez relives the season with her close teammates.
What position do you play?
I play goalie.
What's the training you have to go through as a goalie?
I have to go through is a lot of hard work, and I have a big responsibility on the field because once the ball goes through me it's the end of the game.
How's being a goalie different from being an actual player?
Being a goalie differs from being a player on a field because players on the field have good ball skills while a goalie has to have fast reflexives, and you always have to been ready for what is coming your way.
How do you get chosen to be goalie?
My old coach came to watch us play once, and he told me he needed a backup goalie, so he gave me the chance.
What's your best memory from soccer?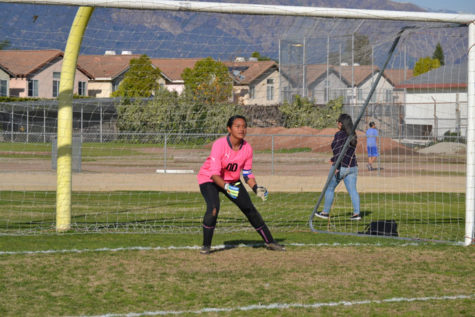 From this soccer season, my best memory would have to be when we come back from a win, or a tie, and we still worked our butts off on the field. I'm glad to have them on my team.
How long have you been playing soccer?
I've been playing soccer for over six years.
What made you get into soccer?
I started off on the field first, and later on my coach from our league discovered I'm better as a goalie, and he made me start. Later on it became interesting to me. Also, all my best friends, we do sports together, and one of the sports we do together happens to be soccer.
Do you have plans for soccer in the future (college)?
Freshmen year I did think about it, but as about now i'm trying to finish high school first with a good finish. If anything does comes my way i'll take it.
What do you think you learned from this season?
I learned sisterhood,and how to be a good teammate, and supporting each, and everyone of them.
What skills do you think you got better at this season?
I got better at trusting myself more because my sophomore year I didn't trust myself as much. I like how my coaches put the trust on you, and you go out there do your thing. It gives me more confidences.