Arroyo's Principal Mrs. G Is Set To Retire This Year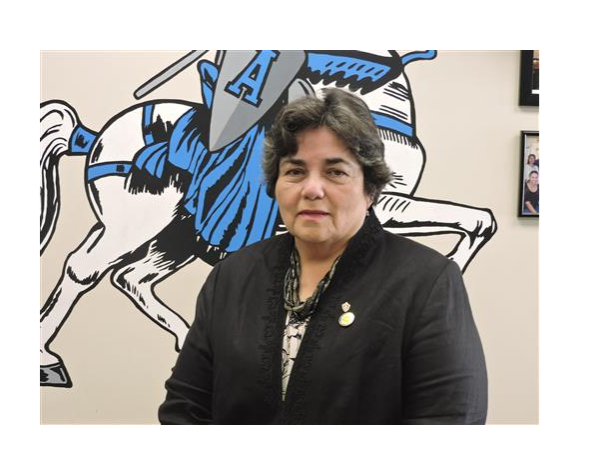 Mrs. Angelita Gonzales, better known as Mrs. G, will retire at the end of this school year.
Mrs. G comes from a family of educators. Her mother was a paraprofessional and one of her brothers was an elementary school principal. But she was not sure what profession she wanted to pursue after high school graduation or during college.  Mrs. G went on to explain, "I started working with students in the middle school … [and found that] I enjoyed it."
She went on to say, "As I listened to [my mother's and my brother's] stories and had my own experience, I decided to go into the teaching profession." 
Before becoming Arroyo's principal in 2013, Mrs. G was a teacher, a Migrant Education Coordinator, a Compensatory Education Coordinator, an Assistant Principal of Activities, Assistant Principal of Student Services, and an Assistant Principal of Instruction.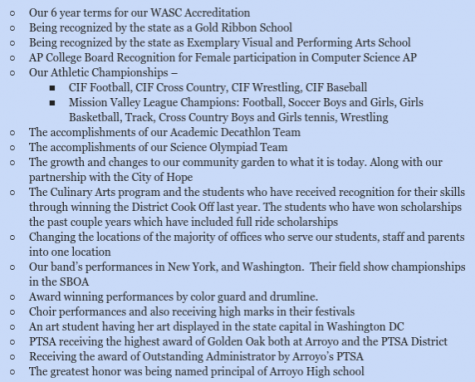 Mrs. G explained that her greatest honor was being named Arroyo High School's principal. Some of her proudest moments as principal include, Arroyo being recognized by the state as a Gold Ribbon school, and an Exemplary Visual and Performing Arts School, and receiving AP College Board Recognition for Female participation in Computer Science AP.
Many students and staff have recognized Mrs. G's dedication and commitment to the school. 
"Mrs. Gonzales is the most dedicated administrator I have ever worked with. Everything she does is for the students. She always has their best interests in mind," said Ms. Jennifer Swanson, English, yearbook, and journalism teacher.  
Kristine Le, 11, remembers, "An instance that stuck with me is when I was staying up late after school to finish posters for ASB and [Mrs. G] went out of [her] way to stay and help me out."
Ms. Laura Vazquez, Arroyo counselor, recalls working on the last full WASC self-study with Mrs.G and Ms. Swanson during holidays when school was closed. She explained, "Mrs. G was able to ask us to give up our time because she was right there beside us, encouraging us. Mrs. G always kept Arroyo High School first in her heart and mind. She is all about the students and their parents, and she had the support of so many of both to prove it."
Throughout the course of her career Mrs. G has learned a lot of valuable lessons. But the lesson she finds the most important is about the value that every single student holds. "I have learned that "Every student has a future" no matter what it may be. Do not judge a student on how they act but on what is inside.  Never give up on anyone, you never know what you will find," said Mrs. G.
While many of us can't imagine an Arroyo without her, Mrs. G has some advice for her successor. "Arroyo is a special place.  It has a lot of potential.  Take time to know the community, staff, parents and students.  There are a lot of great programs and people here.  Help them grow, support them and don't be afraid to make mistakes.  Arroyo is a great place to work.  I am very proud of the students, staff and parents.  I hope they will continue the work that has been started and make it better."
When she retires, Mrs. G looks forward to not having to wake up to an alarm clock. "I will also enjoy working in the garden even though I can't grow anything. Reading some books I have had for some time and traveling," added Mrs. G.
Le who wishes Mrs. G could stay for her senior year, said, "she has dedicated so many years to Arroyo already and so I want to thank her for her service and wish her a relaxing and fulfilling retirement…" Le also hopes that she will come visit once in a while.
"I love and appreciate [Mrs. G]! [She'll] for sure [be missed] at the Knight Kingdom," said Theresa Ulloa, 12, ASB President. 
As a writer for our school newspaper, I have had the pleasure of interviewing Mrs. G a couple of times over the past two years. She has always been more than happy to answer all of our questions and has helped us get in contact with other people in our district, such as the district energy manager. On behalf of Knights Banner, I wish her the very best retirement. 
Although she may be leaving the Knight Kingdom, Mrs. G will forever be remembered as one of its great leaders.