2020 Elections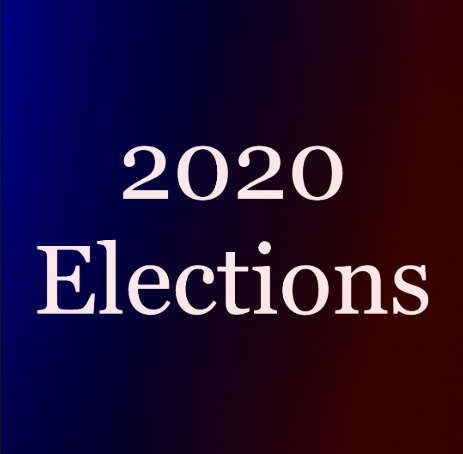 The 2020 election was unlike any other. A deeply divided country, a tense political climate, social unrest, and a global pandemic were among the many factors that affected this year's elections. 
According to the CDC, since January 21st, 2020, the United States has seen about 12, 333, 452 Covid-19 cases, a number that is increasing each day. The global pandemic has led to an increase in mail-in ballots this year. The abundance of votes cast this way has made the counting process longer; the results of the presidential election, for example, were announced five days after election day. 
Voter turnout passed record numbers during this election. According to USA Today, around 150 million votes and counting were cast in the 2020 elections. President-elect Joe Biden amassed the most votes for any presidential candidate in history, and President Donald Trump received the second-most votes.
It can be hard to keep track of everything that went on, so here is a breakdown of some of the main topics as they may pertain to our student body and El Monte residents.
S.A.V.E's Mock Election
Arroyo's S.A.V.E held a mock election for all students via Google Forms on November 3rd. S.A.V.E or, Student Advocates for Voter Empowerment, is a club that encourages and prepares students to become civically engaged members of society.  
Club president Linh Tran, 12, explained that the mock election was meant to teach students about the complexities of voting as well as to emphasize its importance. 
Although the mock election ballot only included the presidential election and state propositions, Tran created a presentation to explain the many races that are found on a real ballot.  "I had hoped that students would be aware that there are multiple races, measures, and propositions in one single ballot. It's not just about the Presidential race," said Tran. 
Tran's presentation, which can be found on ASB's social media pages (@arroyoasb), went over local elections, local measures, countywide races, California State Assembly races, Congressional races, and state measures. The results of the mock election are also found in this presentation.
161 out of the approximately 1900 Arroyo students voted in the mock election. Tran had hoped for a larger voter turnout and explained that "Voting is important because it affects your everyday life. It is one of the many tools you can utilize to get your voice heard." 
To read Tran's presentation, visit: @arroyoasb on Instagram.
To join S.A.V.E, contact: @arroyosave on Instagram. 
Local elections
El Monte made history by electing its first all-female city council. According to the San Gabriel Valley Tribune, there have been at least four city councils in California history to be made up entirely by women. Jessica Ancona, the elected Mayor, is already a member of the council. Her empty seat is set to be filled early next year. Whoever takes the position will determine whether the council remains all-female. 
Ancona told the San Gabriel Valley Times, "I am honored to have been elected the next mayor of the great city of El Monte. As a mother, as an educator, and an advocate, I look forward to doubling down on ensuring we evolve into a city government of the people for the people."
Victoria Martinez and Alma Puente both won their races for positions on the council, and Alma Martinez holds the office of City Manager. 
Jennifer Cobian and David Siegrist were relected to the El Monte School Board. Carlos Salcedo and Esthela Torres De Siegrist were elected to the El Monte Union School Board. 
https://www.latimes.com/projects/2020-los-angeles-county-election-live-results/ 
The Presidential Election
The Associated Press and other major news networks projected Joe Biden as the 2020 Presidential election winner on Saturday, November 7th. President-elect Joe Biden won 306 electoral votes, and President Donald Trump won 232 (a candidate needs 270 to win). Joe Biden was also declared victor in S.A.V.E's mock election, winning 79.9% of the Arroyo student vote. 
The popular vote has also gone to Joe Biden. He currently holds 51.0% of the vote, compared to President Trump's 47.1%. This election made history when Biden surpassed the most votes received by any candidate in history. As of November, 24th Biden has approximately 80,002,083 votes, while Trump, who holds the record for the second most amount of votes, has received 73,872,609.
The Biden, Harris ticket also made history by electing the first female, African American, and Asian American as Vice President of the United States. In her acceptance speech, Harris said, "But while I may be the first woman in this office, I will not be the last. Because every little girl, watching tonight sees that this is a country of possibilities." 
She went on to praise the "The generations of women, Black women, Asian, White, Latina, Native American women who throughout our nation's history … paved the way for this moment tonight… I stand on their shoulders."
Although Biden has been declared the winner, Trump has challenged the result and claimed widespread voter fraud. The Trump campaign has filed lawsuits in Pennsylvania, Michigan, Nevada, Georgia, and Arizona. However, some of these lawsuits have since been withdrawn or tossed. 
It is unclear whether the President will concede and help ensure a peaceful transfer of power. Trump has not spoken to reporters since Biden was announced victor but has tweeted several times arguing against the validity of the election results. On November 15th, he tweeted, "I won the Election!" which Twitter flagged as misleading by saying, "Multiple sources have called this election differently."
In his acceptance speech, Biden said, "With full hearts and steady hands, with faith in America and each other, with love of country, a thirst for justice, let us be the nation that we know we can be – a nation united, a nation strengthened, a nation healed, the United States of America."
Cited: