Arroyo Offers Alternative Reading Options
The COVID-19 pandemic closed several facilities and buildings, and the Arroyo Library was no exception. The library's closed doors, however, do not mean students cannot access reading material. Arroyo students have the opportunity to read ebooks and other digital content through several online reading platforms.
Out of the five high schools in the district, Arroyo always has the highest amount of book checkouts. "I may be exaggerating a bit here, but our monthly checkout is about double the other four schools put together! That's impressive," said Arroyo librarian Crystal Mercado. 
This year, the district purchased SORA, a platform that gives students and teachers access to ebooks and audiobooks. Mercado explained, "This platform is shared across the district and was a collaborative effort amongst the five schools to add content for student/teacher use." 
For a tutorial on how to navigate SORA, watch this:  Sora – Introduction Tutorial – YouTube 
Another platform available for reading purposes is GALE. Where SORA has more fiction based content, the Gale ebook collection focuses more on non-fiction material. "The collection I hope is of most value to students within GALE is Cameron's Collection, which focuses on social-emotional wellbeing," said Mercado.
Curbside pick up is an option for students who would like to hold a physical book. Yet because of the recent spikes in COVID-19 cases, Mercado explained that this option might be put on hold.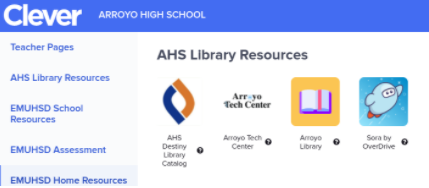 "To help organize the various resources, I put together a Digital Library for students to be able to access the different services we offer (reading material, databases, tech support, etc.)," said Mercado. This digital library is accessible through the Clever portal on students' Chromebooks.
Digital library: https://sites.google.com/emuhsd.org/ahslibrarydistancelearning/home 
Mercado pointed out that even though many may prefer reading from a physical book, SORA and GALE have several features that she hopes students will take advantage of. Her favorite part about these platforms is that they allow users to listen to the audio version of books. 
"I have a hard time reading books – I tend to get distracted – but when I listen to audio, I am able to 'get lost' in the book while still keeping busy," said Mercado. 
Reading, Mercado explained, helps her learn in more ways than one. "Academically, it helps improve my writing, my vocabulary, and my comprehension," said Mercado. Reading also gives her a broader understanding of humanity. "[Reading] helps me learn about worlds, perspectives, lifestyles, ideas, customs, and experiences that I may not be aware of or exposed to in my everyday life," said Mercado. 
For students who might not know where to begin, Mercado made the following recommendations:
"If you want to listen to something, I recommend

Sadie

by Courtney Summers. It really comes to life in the audiobook version. 

If you are looking for a good, short book to get you started, I recommend

Orbiting Jupiter

by Gary D. Schmidt. 

If you are looking for a dystopian book, I recommend

Scythe

by Neil Shusterman. 

And because I am a librarian, I have to recommend

The Library Book

by Susan Orlean. 

If you need a book recommendation, you can always email me (

[email protected]

), and I will send some titles your way!"