Sleighing Through Winter Assembly 2022
Arroyo High School's yearly Winter Assembly was on Friday, December 2, 2022, and allowed students to showcase what the performing arts at this school are made of.
This year's Winter Assembly had so many spectacular performances! From Band to Cheer to Comedy Sports and Dance, many of our students got to show off their impressive performances and hard work. Here are just some of our awesome knights' perspectives on their performances.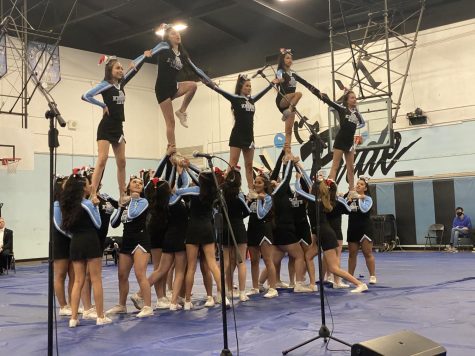 "An aspect of my performance that I liked the most was performing with my team and providing our classmates with a holiday experience," Varsity Cheerleader Nicole Orozco said.
The audience was a significant factor that helped the performers feel confident with their work.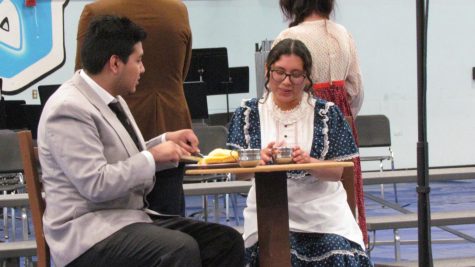 "I liked hearing people's reactions like our little, our little jokey-jokes. It was very validating," Comedy Sports member Yaslyn Montoya expressed.
These were all group performances, which meant everyone had to bring something to the table. Advanced Drama thespian Ryan Avila knew precisely what he needed to do to put on a show.
"I contributed to our group's performance by exerting my own confidence and enthusiasm for the role, shaping it into something mildly entertaining for the audience to watch."
However, there were times when students would not show respect to their peers.
"There were a lot of behavioral issues. A lot of people weren't paying attention and were having side conversations," A Cappella singer Luz Arenas pointed out.
Even then, some performers had other things to worry about to make this performance their best. 
"An obstacle I faced while practicing my routine was getting the choreography down since this is my first year actually dancing." Dance Club member Dominick Huerta said.
Putting on a show comes with its ups and downs. Especially at Arroyo, we have to hold two assemblies to allow the whole school to experience our performing arts.
"The time constraint was an obstacle we faced since we only had 2-3 weeks to work on everything before performing it," Colorguard captain Landon Liew said.
Ultimately, all the hours of practice and rehearsals are worth it. String Orchestra Cello player Mindy Dinh had a comment that perfectly sums up what being involved in the performing arts feels like.
"You see everyone getting ready and we all know that we've prepared for this moment, like months before. So this is like our chance to show what we've been working on."