Camelot Press Release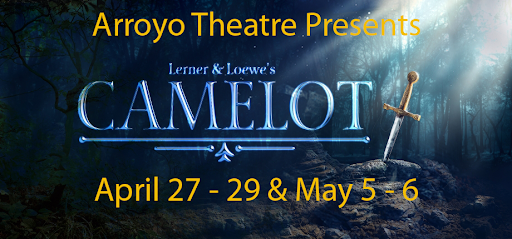 "ARROYO HIGH SCHOOL BECOMES THE LEGENDARY KINGDOM OF CAMELOT – FOR TWO WEEKENDS ONLY"
Arroyo High School Theatre Arts is proud to present…
Lerner and Loewe's CAMELOT
April 27-29 & May 5-6 @ 7 PM 
In the Arroyo High School Little Theater: 4921 N Cedar Ave, El Monte, CA 91732
Tickets on sale now at: https://www.emuhsd.org/Page/4235
$15 Door Admission & $10 Pre-sale
Come see the musical version of the original knights of the round table story. Watch an idealistic young King Arthur who hopes to create a kingdom built on honor and dignity, embodied by his Knights of The Round Table. However his Ideals are put to the test when his lovely queen, Guenevere, falls in love with the young Knight, Lancelot and the fate of the kingdom hangs in the balance.
Borrowing from the Arthurian legends, Lerner and Loewe's Camelot is the duo's fantastical masterpiece which triumphed on Broadway in a legendary original production that lead to a film version, and numerous revivals in New York, London and across the globe. Its Original Broadway Cast Album topped the charts for 60 weeks, with a rich score boasting such gems  as "If Ever I Would Leave You," "I Loved You Once in Silence," "Fie on Goodness," and of course, "Camelot."
The AHS production artistic team consists of Director Daniel Ingram, Musical DIrector Joseph Massaro, and Vocal Coach Jackeline Cox & Technical Assistant Andrew Burton
Cast includes: Ryan Avila, Marcus Carrillo, Aurora Che, Jericho Domingo, Elena Escobar, Sean Figueroa, Ebonie Lira, Valentina Nunez, Alondra Oregel, Zeus Perez, Samarah Santos, Josue Vasquez, Kayla Velez.
Crew includes: Vincent Ceballos, Dan Doan, Tyler Fleitas, Medwin Gil, Jessica Gonzalez, Esteven Hernandez, Celeste Huerta, Dieu Lay, Ariel Marquez, Luis Mendiola, Katrina Miao, Nathan Miranda, Ruben Munoz, Roman Nunez, Eric Ornelas, Mariana Pimentel, Samantha Reynaga, Neyla Rodriguez, Brandon Rosales, Joshua Solano, Alex Zavala.