Club advisors and class councils came together to promote their clubs and engage with students to recruit new members for their associations during the annual Club Rush. Rally Square was busy with club officers reaching out to students and answering students' questions, many of whom had the goal of becoming more involved with Arroyo student life. 
On September 7th and 8th, many students were able to find club communities that interest them and get the opportunity to become more involved in Arroyo student life. Club Rush gives a sense of direction to students on campus to become more grounded and connected at school. 
"I think it's a really good opportunity for people to really get out there and join new things that classes don't provide," said Dania Calva, Senior. "I signed up for that club [Crochet Club] because I've always looked forward to crocheting, it's really fun and then in the future I'd maybe open a business of just crochet items." 
Not only does this event give students the chance to get involved, but it also furthers students' interests in areas such as crocheting, comedy, the medical field, and much more. 
Story continues below advertisement
"I wanted to join Red Cross because I want to do Sports Medicine next year, so I think that would help. I joined Key Club because of volunteering. And dance because I've always loved music. And I've joined orchestra already," said Sydney Williams, Freshman. 
Among those clubs was the Chinese Club which had a distinctive way of getting students' attention and interest in their club. 
"We are just thinking about handing out pins and stickers and spreading that around, that will be fun," said Audrey Tang, Junior, President of the Chinese Club. 
A variety of Arroyo club advisors showed off what made their club unique by showing presentations, trophies, models, and memorabilia. Club officers informed students what their clubs are, what they focus on, why they should join, and more. 
"There are some clubs out there that are similar but I think what stands out most about our club is just it's straight to the point. We have one goal in mind and that is to help out others." Matthew Lam, Senior, Vice President of Leo Club. 
Club Rush was organized by the ICC committee, Dara Sem who is the Director of Students Affairs, and Vice President of ASB Gabriella Castro. So much time and hard work was put into creating and setting up Club Rush.
"Club rush took a lot of meetings with all of the presidents of the clubs, participation of all the clubs, and heavy involvement of the VP leading the ICC meetings, myself, Dr. Ortiz, and Nayeli Garcia [she is the Activities Clerk in the Activities Office]", said Mr. Sem. 
When asked what his goal was for this year's Club Rush Mr. Sem said, "To get a successful turnout. My goal with everything is to get people excited about the events happening here on campus, so I try to get the word out as soon as possible." 
This year's Club Rush was different from others in past years, instead of having one club rush event at lunch, Mr. Sem along with the ICC composed a week-long virtual club rush as well as a two-day long in-person event. 
"Virtual club rush is a display of what the clubs have to offer on a Google Slides document we have set, so they get a preview of what the clubs are doing and give them a real-time experience to see what they want to probably join," said Mr. Sem. 
Club Rush is aimed at incoming freshmen who have not yet found communities within Arroyo. With the input of Link Crew advisors and the ICC, they have expanded the opportunities for freshmen to get involved. "Because Freshmen Focus is on Thursday, why not have Club Rush outside for two days, Thursday and Friday," said Mr. Sem. 
Many students were able to join clubs that interested and connected to them. Clubs were able to expand their reach to new Freshmen and have members who will hopefully continue the legacy of their club even after the upperclassmen graduate. Having students of all grades involved in clubs at Arroyo allows students to feel connected to the school, their peers, and our community.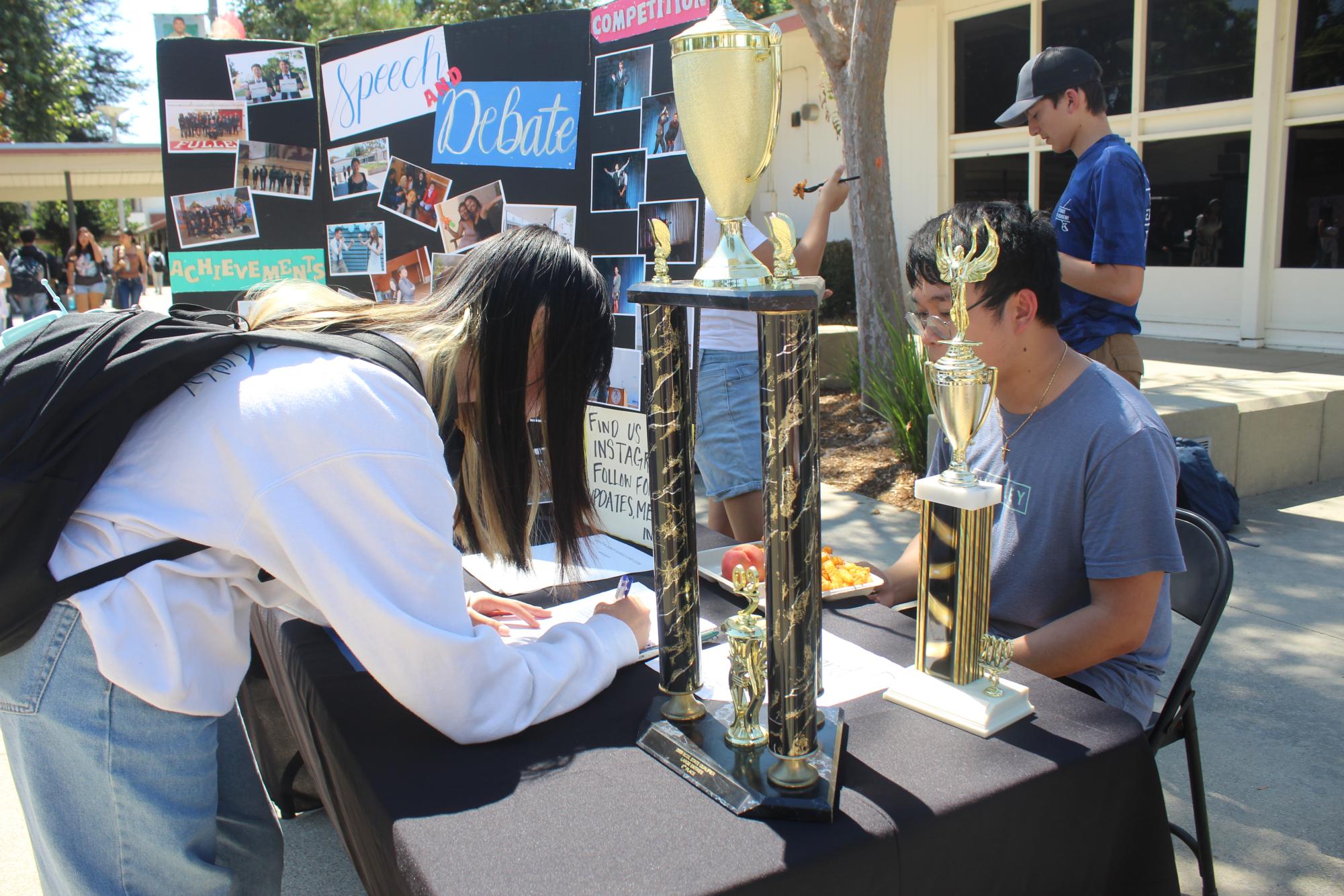 "It's very interesting and it's very in your face. A lot of people are joining clubs and I think it's a good thing. I like it because I could get involved," Sydney Williams, Freshman explained.