Maya Chang – Varsity Volleyball
Varsity volleyball athlete, Maya Chang, 12, fulfills her parent's wish to play a sport in high school, making varsity after one year.
What inspired you to do volleyball?
When I came to one of the games my freshman year I thought it was really cool, so  I wanted to try it out. I had a little bit of experience because I used to play with my dad, and he wanted me to do sports in high school. I did volleyball because in my opinion it's the easiest out of most of the sports.
How long have you been on the volleyball team here at Arroyo?
I've been playing since my sophomore year and played JV. I've been on varsity for the last two years.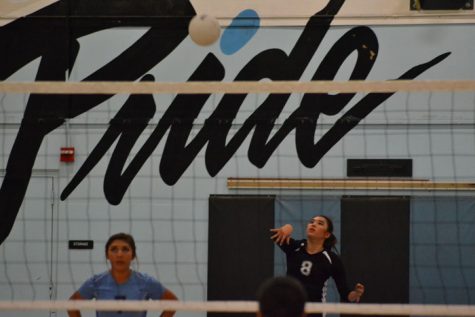 What's  position do you play?
This year I'm playing an opposite position, but I can play outside as well.
What does an opposite  player do in volleyball?
An opposite is where there are two sides of the net, and you have two hitters on each side. On the right side you have the opposite, and on the left side you have the outside. We're usually were on the net, so we hit the ball.
What kind of warm-ups do you do at practice?
We start off every single practice with a full workout to get a lot of cardio in to get our bodies warm.We do one lap to the wall and back and then we do high-knees, butt kickers, lunges,  jumping, and stretches here and there. I think the most challenging one though is probably the jumping one. We call those frog leaps because you look like a frog when you jump.
How do you celebrate a win?
Something we are trying new this year is to bring it into the middle because that is what a lot of volleyball teams do.We bring it in the middle and we cheer. We also have little chants here and there. We have cheers for an ace, a kill, and a block. If we don't make a score, we have a cheer for that as well.
Is practice harder after a lost?
Yea sometimes. I still feel like it's the same because we know what we did wrong in the game. We also work on the mistakes we made during the game. Coach Flores and Coach Munson know what discipline is, and they know how to discipline us the correct way.
What's your best memory from volleyball?
My best memory would be this year on our way back from one of our games. All of the volleyball girls were just singing along to songs, dancing,and it was really fun. It was one of the times where the whole team bonded, and we don't get a lot of that because its really hard to put a bunch of girls into one area and make them try to get along.
Do you have any pre-game rituals?
Before we play we'll go shake the opponent's hands and tell them good luck. JV does a little tunnel and we go through it. The whole team gathers around in one circle, and we prep talk for a little bit. Then we do this chant that's go like "Arroyo kick butt!"
Do you have plans for future volleyball (maybe in college) ?
For D1 schools there is a height requirement of 6.0 ft for my position. I'm only 5.6 ft so there is no way for me.