The return of Food Booth
The first of several planned Food Booths introduced the tradition to Freshmen and brought shouts of excitement from upperclassmen.
Even with a hint of rain in the sky, this year's first scheduled food booth, or "Knight Market", proceeded as planned with most clubs selling food and drinks to students and teachers.
After club officers expressed concern over the gray weather expected for today, Mr. Oscar Gomez reassured all that if it did rain, the event would be moved to the covered hallway that spans from the Boys' locker rooms to the choir room.
As soon as the date was released, clubs began planning compiling lists of what to sell, what to buy, and prices. With one goal in mind—to make a profit—clubs had to find the cheapest items and sell at the best price without overpricing and risking losing customers.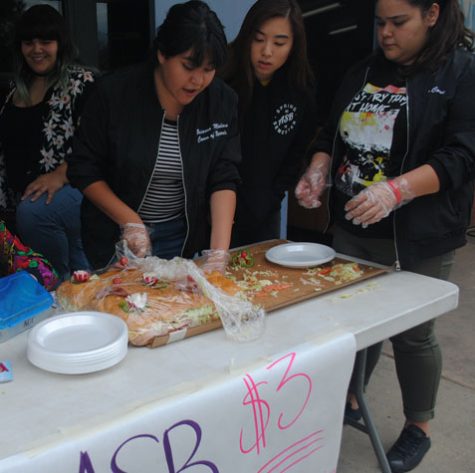 Just like previous years, there were also regulations in terms of what could be sold and in what quantity. No fried foods were to be sold and desserts were only allowed to be bought one per person per visit to the table. Students could get a second helping but would have to go through the line once more.
The morning of Food Booth classrooms filled with boxes of food and aluminum covered trays under the careful observation of students who couldn't wait for lunch.
Minutes before the lunch bell rang, bare tables were quickly dressed in posters and covered with plates, utensils, and most importantly, the food. Meanwhile, students huddled in doorways hoping to beat the expectedly long lines and massive clusters of people.
Before the bell finished ringing, club sellers braced themselves for the first wave of customers who practically ran up to their booths. Money and food quickly exchanged hands and the first food booth was smoothly underway.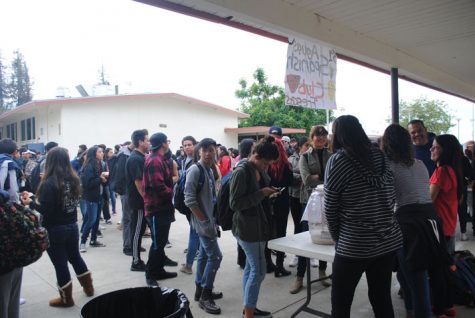 Students had a variety of choices such as Agua Frescas from Spanish Club, spaghetti from Life Club, pie from Band, and cream puffs from Horizontal Drop.
"Everything looked so good, but I didn't get to try anything because I forgot my money," said Christopher Gutierrez, 9.
Behind the scenes, a river of club officers and helpers flowed quickly against the gym as shifts were taken in hopes of grabbing a quick bite to eat between sales.
Fifteen minutes before the end of lunch clubs began to fortunately, or unfortunately, run out of items. Senior Class council sold out of boba and slushies while Speech and Debate's cheesy, bacon fries turned into cheesy fries. After losing an entire tray of alfredo in the morning, Key club managed to sell the remaining three trays without worry. Nonetheless, profits were made at the end of the day.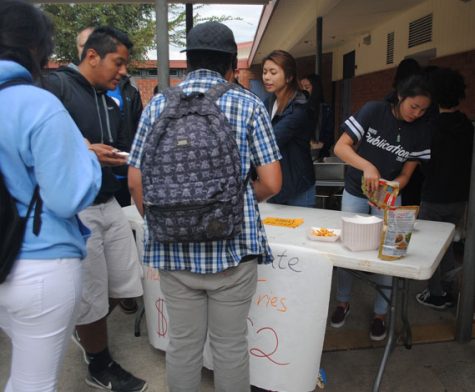 Several more food booths are being scheduled throughout the school year so students have more chances to try what clubs have to offer and remember to actually bring their money.