LA Zoo Lights
The LA Zoo is holding a light-spectacular event to show their holiday spirit as Christmas nears.
Hang on for a minute...we're trying to find some more stories you might like.
For the 3rd year in a row, the LA Zoo is celebrating the Christmas holidays by having a winter seasonal event with lights throughout the zoo called LA Zoo Lights. LA Zoo Lights is a journey through the zoo enjoying the scenery of all the different colored lights shaped into animals or objects and wrapped around the habitats.
Although most of the animals usually seen daily at the zoo do not make an appearance, there are still reindeers and reptiles to observe. On special nights, Santa stars at the event to take pictures with. Hot chocolate and other holiday treats are also available for purchase. This event is best enjoyed with young adults and children. This year is their 50th anniversary, and they are "ZooLAbrating" and making it better than the past years.
In my experience, the Los Angeles Zoo Lights was an astonishing encounter filled with beautiful lights that were very well decorated and were great for photo ops.  I explored the zoo for about two hours. It took a while to look at all the bright lights including a water show that sprung up from the otter exhibit to demonstrate pictures of the zoo. The LAIR is one of the hot spots filled with reptiles and underwater creatures and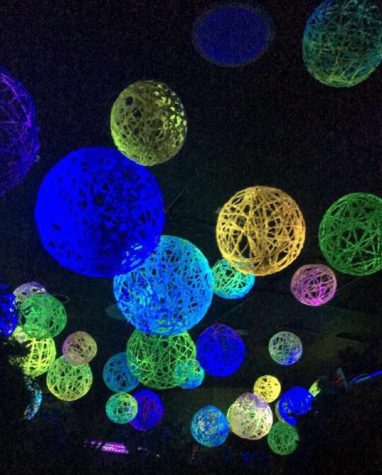 flooded with a black light effect to make any light color glow. A common sight that you will see includes lights wrapped beautifully around the big trees. The hot spot where everyone headed to was the bridge which was covered with twinkling lights. Right next to the bridge is a holiday display of Santa on a sleigh with reindeer. A snow machine continuously pours snow as you walk enjoying the view and listening to the Christmas music.

However, based on the pictures from social media, I was dumbfounded when I looked around and it wasn't exactly as cool as everyone was making it out to be. But I did have a wonderful time with my family and friends. I would highly recommend going if you want a place to take holiday photos or Christmas cards or just to post some nice selfies on social media.