Senior Poll 2019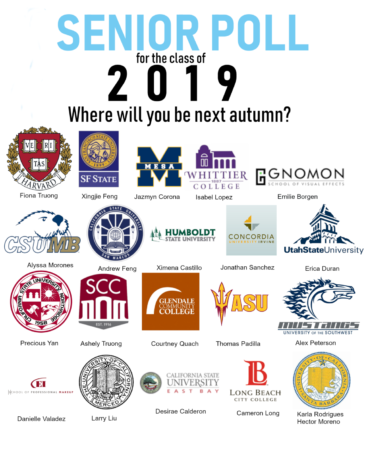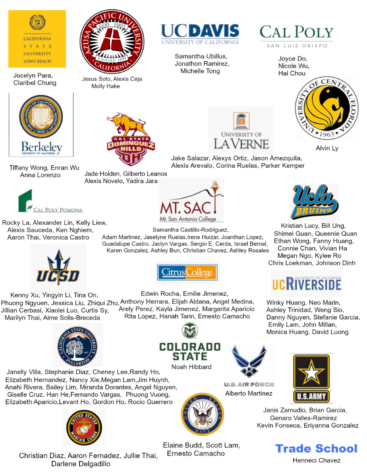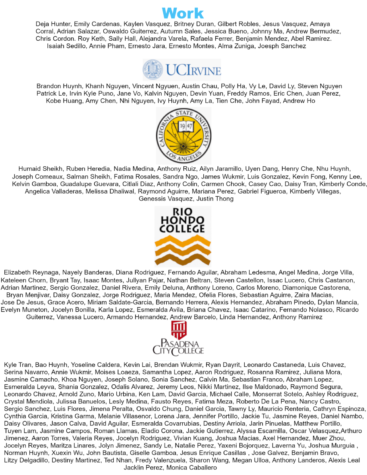 As the school year comes to a close, seniors prepare to go off into the world. Some will join the workforce, while others will attend four year universities or junior colleges, some will serve our country in different branches of the military, and others may travel or are still deciding what their next step is. Either way, these Knights are ready to take on the world.
Small businesses contribute to growth in our economy. According to Forbes, "there are between 25 million and 27 million small businesses in the U.S. that account for 60 to 80 percent of all U.S. jobs. And, a recent study by Paychex, says that small businesses produce 13 times more patents that larger firms."
Arroyo's Jesus Vazquez counts on possibly opening his own shop in the future. "Next year I plan to go to cosmetology school …  in Whittier. Get my hair cutting license and maybe open my own shop," explained Vazquez.
Vazquez spent all four years of high school at Arroyo and described his experience as "pretty good."
"I kind of always saw the school as part of my family," said Vazquez. "All my family came here… my mom, dad, they met here, my brothers came here. Now I'm the last one here," explained Vazquez.
Around 49% of Arroyo's graduating seniors plan on attending a junior college. Among these students is Kayla Jimenez.
"I'm going to be going to Citrus and I'm going to be on the cross country team. The coach was saying that hopefully he could set up a paid internship with the physical therapist which is really good because that's what I want to do."
Jimenez ran cross country and track here at Arroyo. "The cross country team and the track team were a really good part of my [high school] experience, probably my favorite part," said Jimenez.
"[The Citrus cross country team is] a very small team so the coach will be able to focus on me a lot … I think that I would be able to get faster and have a lot of improvements which is exciting," said Jimenez.
Some Arroyo students will be serving our country in different branches of the military. These students will work hard to protect our freedoms, their courage and bravery is greatly admired. As General James H. Doolittle once said "there is nothing stronger than the heart of a volunteer." Eriyanna Gonzalez is one of the students who plans to join the armed forces.
"My plan for next year is military. I'm going to be doing active duty for three years so that way I can get free college," explained Gonzalez.
Gonzalez hopes to become an environmentalist. "After [the military] I plan on doing general ed and then I want to major in environmental science to be an environmentalist," said Gonzalez.
Gonzalez is most excited about getting to travel. "My goal is to go to Germany … I think that's the most exciting thing, knowing that I'm not going to be here anymore and I get to go new places and learn new things," explained Gonzalez.
Arroyo thanks all of its students going into different branches of the military for their commitments.
For Arroyo's graduating seniors, this is a time for new beginnings. They will be leaving Arroyo and taking the next step in their lives. We wish the class of 2019 the best of luck as they move on.